DEFENDER & FRIENDS DONOR UNITS FOR RESTORATION
PROJECTS:
From our workshop located in Barcelona (Spain), we select and stock the best units available in our sunny country. The names of the Spanish cities featured on all our Special Editions come from the locations where we found our donor units.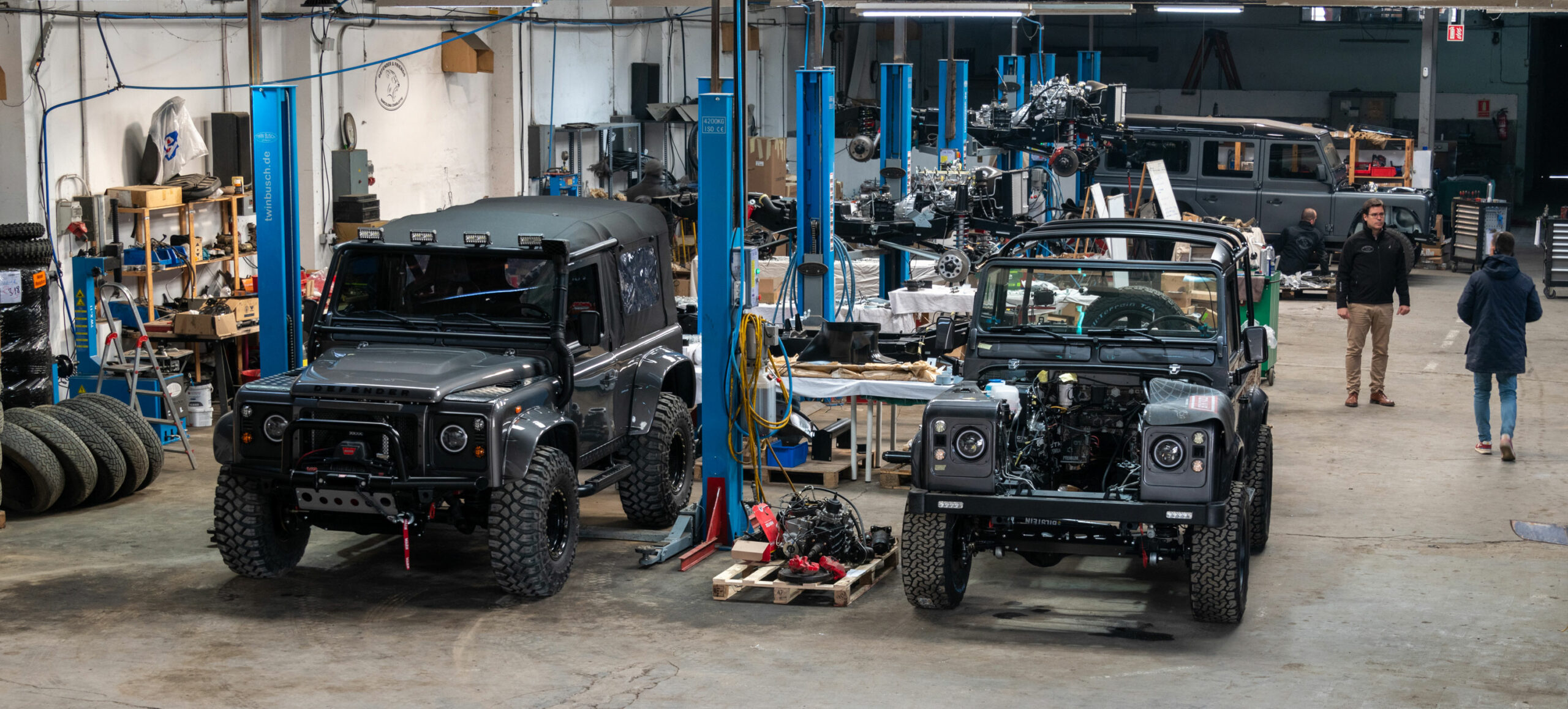 FULL FRAME-OFF RESTORATION PROCESS EXPERIENCE
We offer a full frame-off restoration process experience for our clients, helping them to define the design they want for their Defenders.
Every week during the 5-6 month restoration period, we keep our clients and friends updated, sharing the process with full transparency from our Workshop, Paint Booth, Mechanical, and Upholstery facilities. The work is extremely thorough and is fully photo documented for you.
The personalization of every detail pushes the limits of your imagination. You will never find another Defender like ours, as we are specialists in manufacturing unique parts and materials that make your Defender very special and remarkably exclusive.
FULL TEST DRIVE FOR YOUR DEFENDER
Once the restoration process is finished, we do a 750 mile test drive to check and adjust the clutch, brakes, engine tune, handling, and sound system.
We work with professional shipping companies who have taken care of home deliveries of Defenders in the USA for the last decade, and you will receive all the paperwork necessary to register your Special Edition Defender at your local DMV.
To ensure an incredible experience for you, we offer a unique photo shoot and a professional video of your bespoke "Defender and Friends" Special Edition vehicle.
COMPREHENSIVE CHECKS FOR YOUR DEFENDER
Before buying a Defender for restoration, our qualified mechanics complete a comprehensive check, including:
USA Importation regulations: we ensure that all our vehicles are "matching number" units and more than 25 years old to apply the EPA and Safety inspection exemptions.
Chassis condition: Crossmembers may be replaced, however the rest of the chassis must be free of rust. Only units with no accidents and clean titles are used for restoration. PRICE INCLUDES 1-YEAR/12,000-MILE $3,000 LIMITED WARRANTY IN YOUR LOCAL WORKSHOP IN THE USA. FOR OTHER MARKETS, PLEASE CONSULT US.

We are always available for all our clients; our after-sales services in the US will take care of you as part of our family & friends.